Last week, we talked about the common audio problems you're likely to run into when filming in-house videos. We also gave you some tips to combat those issues.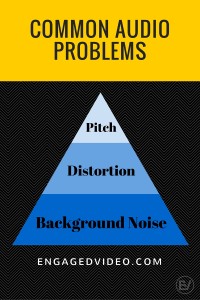 However, audio is only part of the equation when putting together great videos. The next headache you may encounter? Lighting problems.
It's so Dark!
Many of our clients run into the problem of shooting their videos in either low-light rooms that diminish the quality of the finished video or they find themselves filming under stark overhead lightning that creates all kinds of strange shadows. Chances are, if you're producing video content in your office, you're facing one of these issues:
Terrible fluorescent lights
Offices with windows that let in extremely bright natural light
Objects obstructing natural light that cast shadows on your subject
Small out-of-the-way offices that get very little light
As we discussed in the last blog on audio and the problems inherent with extremes, the same issues are true in lighting situations. Dark situations can degrade the quality of your video and too much light can create distracting shadows or wash your subject out.
What to Do?
Turn on the light! It may seem obvious, but the quickest solution to lighting problems is to shoot your videos in a well-lit room. You'll want to make sure the lighting you use is even. Focus your lighting goals around eliminating shadows. Create a bright, well-balanced amount of light on your subject in order to preserve overall video quality. If you do a Google search for "Effective Lighting for Video" you're going to get a bunch of great tips from a variety of sources. The recommendations you'll get on lighting equipment will vary widely from: A $15 desk lamp from IKEA to a $400 LED variable lighting kit and bounce panels. Here's the simple reduction of all that information: find lights that look good in YOUR camera and in YOUR room. Every space is different so play to your needs by testing.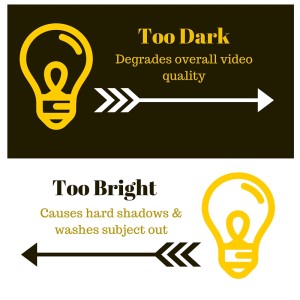 What to Buy?
If you want to step up your lighting game by getting some affordable quality gear, consider the following recommendations from Engaged Video's founder and video aficionado, Zacory Boatright:
That's a Wrap!
No matter where you're filming your videos, just remember a few things that we've talked about in this DIY series:
Audio: Be mindful of background noise, distortion and pitch issues while recording. If viewers can't hear or understand the message you're trying to get across, there's a good chance they'll simply stop watching. Some simple additions to your audio arsenal can make for a better quality video.
Lighting: Make sure to film your videos in a space that isn't too dark or too bright, as you'll run the risk of degrading the quality of the video, creating harsh shadows or completely washing out your subject. Try to create even lighting centered on the subject of your video to improve overall quality!
Have a Question?
Have a burning question about video production, social media engagement or building a webpage? Leave a comment below! We're happy to help and, chances are, we'll turn it into our next blog.