February seems like the longest month, doesn't it? It feels like we fly through December simply with the sheer number of holidays and January is usually over before I know it. And then comes February.
Anyway, to combat the slow crawl toward Spring I thought I could bring some DIY to the blog. We've done a few DIY posts in the past, but I wanted to expand that particular category for us a bit more and actually do some projects.
The DIY Calling
A bit about me: when I'm not Blabbing with Zac or making blog headers, I tend to be prowling thrift stores to find my next project. I'm a die-hard DIY-er at heart. So that's why, when Zac sent me this video I knew I had to share it with you guys. And, of course, document our attempt.
The Video:
This video, by youtuber vinvin121 shows an incredibly simple and cost effective way to create your own teleprompter at home. The video and sound quality of the tutorial aren't the best, but his instructions are clear and easy to follow and the end product that he creates is really great.
A Little About Teleprompters
Teleprompters, for those that aren't sure, are devices used in video production that scroll through a script so the person on-screen can focus less on memorizing their lines and more on being comfortable.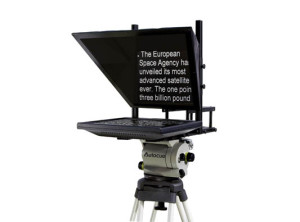 They're a huge help when you're creating videos because it takes a bit of the burden off of the person you're filming and gives you the ability to make sure you're including all the dialogue you want included.
Unfortunately, they can also be pretty expensive. Generally, they range anywhere from $150 and upwards to $500 or more.
That's why this video is so great! With a little bit of time, effort and patience you have a totally usable teleprompter that's going to make creating scripted videos in-house so much easier.
The Challenge
Zac is actually going to be tackling this DIY project for us, and reporting back in with his results next week.
Check back Wednesday, February 17th to see the finished product! And let us know in the comments if you're trying this out with us!
Have any Projects We Should Try?
Have you tried and DIY video projects? Let us know and we'll give it a try!