Here on the Engaged Video blog, we'll be starting a new series called Tools of the Trade where we introduce you to what we use on a daily basis and show you some things that might make your work life just a bit easier.
First Up? A nifty little tool called Canva.
What is It?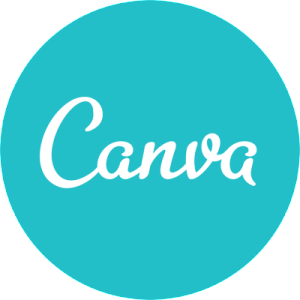 Canva is a fairly new application for the creation of basically any kind of graphic you could possibly hope for. Think of it as a kind of Photoshop Lite. And it's free to use!
Why I Use It
Don't get me wrong, I know my way around Photoshop and spend much of my day CRTL+T-ing everything from onset photographs to vectors. But sometimes, I just don't want to deal with it – it's an incredibly powerful tool but there are times when I wish it was easier.
It includes tons of templates set to the correct dimensions for things like Facebook posts and ads, blog titles, infographics and more. Setting up an account is incredibly simple and, best of all, free. Included in your account is access to literally thousands of free icons, stock photographs, shapes, charts and graphs. You name it, Canva probably has it.
How to Use It
First, you'll go through the short sign up process which takes probably 5 minutes at most. Once you've logged in, you're ready to go. You'll be met with this page: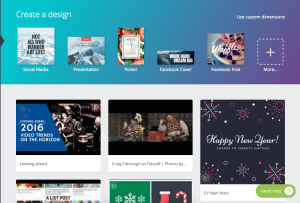 Along the top, you are given a few options for templates to choose from but if you click on the
More + option, you're greeted with even more to choose from.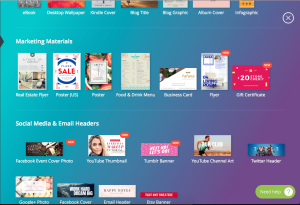 Once you've chosen the template you want to work with, you're taken to the editing screen which gives you choices from already created layouts that you can work off of or you can start from scratch. You can even upload your own images (like your logo, etc.) and incorporate them into your project: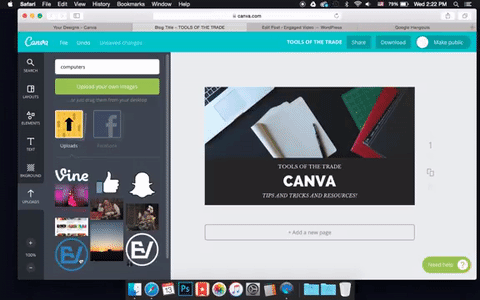 Keep in Mind
While using Canva is free, there are some aspects of their designs that do come with a fee. Their selection of over 1 million stock photographs includes both free and paid choices. The images you have to pay to use, however, only cost $1 and they have a huge selection (seriously. 1 million is pretty insane). You'll know which images you'll need to pay for as free images are indicated with a "FREE" marker in the bottom right corner.
The Cool Part!
Canva offers business accounts (Canva for Work) that come with a whole host of upgraded features and toolkits for a price. Within Canva for Work, there's an amazing feature called Canva for Non-Profits. If you're a non-profit organization that wants to utilize the more robust paid tools Canva offers you and your organization can apply for a COMPLETELY FREE Canva for Work account. That's probably the coolest thing ever.
Also, you'll get access to a vast array of helpful articles from the Canva Design School, including lessons, design inspiration and more. But be warned, you may get lost reading everything they have to offer.
So that's it for this first installment of Tools of the Trade! We'll be bringing these to you in the weeks to come. And if there's an awesome tool you use that you think we should check out, let us know in the comments! I love to try new stuff.